DAS BLOG of SHAMELESS (& somewhat lackadaisical) SELF-PROMOTION!!!
Jack Smith in Star Spangled to Death (ca 1958)
 NOT TO MENTION DOGGED SELF-AGGREGATION!!!
Although sporadic updates may be found in "Events" and necessary modifications (plus relevant new material) will accrue to "Biography," Das Blog mainly serves to link to material published in other venues, with new stuff featured on "The Home Page" [see below]
 2023
Remembering Jean-Marie Straub [Artforum] As an artist and a person, Jean-Marie Straub embodied the dialectic. Read more…
On Ruth Beckermann's Mutzenbacher [Los Angeles Review of Books]: Currently making the film festival rounds, Ruth Beckermann's Mutzenbacher is at once a literary adaptation, an observational documentary, a psychosexual thought experiment, and an open-ended investigation: Sigmund Freud filtered through Andy Warhol's lens.  Read more…
Remembering Michael Snow [New York Times]: Michael Snow, a Canadian painter, jazz pianist, photographer, sculptor and filmmaker best known for "Wavelength" — a humble, relentless, more or less continuous zoom shot that traverses a Lower Manhattan loft into a photograph pasted on its far wall — died on Thursday in Toronto. He was 94. Read more…
New York Times Rewind columns
The Oak (Lucian Pintilie); Lumiere (Jeanne Moreau);  Chocolate (Claire Denis); The Wounded Man (Patrice Chereau)
2022
On Jerzy Skolimowski's EO [The Nation] Is it a paradox that the flashiest, wildest, most heedless—in short, the most youthful—movie I saw this past year would be EO, written and directed by Polish octogenarian Jerzy Skolimowski? Read more…
Remembering Julia Reichert [New York Times] Julia Reichert, a filmmaker and educator who made a pioneering feminist documentary, "Growing Up Female," as an undergraduate student and almost a half-century later won an Academy Award for "American Factory," a documentary feature about the Chinese takeover of a shuttered automobile plant in Dayton, Ohio, died on Thursday at her home in nearby Yellow Springs, Ohio. She was 76. Read more…
On Radu Jude's Potemkinists [Artforum online] A Romanian filmmaker who regularly deflates Romanian myths of national greatness, Radu Jude recently graced the New York Film Festival with a compact, farcical essay on the material basis of historical memory, or, to use Trotsky's term, "the dustbin of history." Read more…
Remembering Jean Luc Godard [The Nation] "Godard didn't make cinema. Godard was cinema." So said some French dignitary (was it Macron or his tweeters?) when the news broke last Tuesday morning, September 13, that Jean-Luc Godard est mort. Read more…
On Diane Arbus (and Susan Sontag) [Tablet.com] "Go in for the kill" is an expression I've heard photojournalists use. To me, it suggests that their art requires a skill akin to bullfighting. Still, it's a truism that the camera can be "a weapon of aggression." So it was described by Susan Sontag in her ferocious takedown of the recently deceased photographer Diane Arbus, first published in The New York Review of Books in 1973 under the headline "Freak Show." Read more…
On the Jewish Museum show "NYC 1962-64" [NYR.com] The Jewish Museum's current show, New York: 1962–1964, is nostalgic not so much for the early Sixties as for a time when, with the art market booming and experimentation in full flower, it seemed that the New York of the Sixties was a sequel to the Paris of the Twenties.  Read more…
On Victor Serge's Last Times [NYT Book Review] Franz Kafka speaks for us all but there may be no other European writer who experienced the tumultuous first half of the 20th century more profoundly than Victor Serge. Read more…
On Sergei Loznitsa's new documentary, Babi Yar. Context [NYR.com] What do moving pictures reveal and what can they remember? These are questions that Sergei Loznitsa's new documentary, Babi Yar. Context, asks the viewer as well as itself. Read more…
On Radu Jude's Bad Luck Banging [NYRB] Bad Luck Banging, or Loony Porn, the Romanian director Radu Jude's exuberantly rude and bawdy new film, is a movie about us. Or rather, it's a comedy about our world: how we live under surveillance, with diminished boundaries, plagued by conspiratorial thinking and multiple pandemics—virtual as well as actual. Read more…
On Todd Haynes's The Velvet Underground [Tablet.com] "It is said that nowhere in the world are so many people crowded together on a square mile as here." So Jacob Riis wrote of the lower Manhattan neighborhood he called "Jewtown," noting that "the average five-story tenement adds a story or two to its stature in Ludlow Street." Read more…
New York Times Rewind columns
Millennium Mambo (Hou Hsiao-hsien). My Hustler (Andy Warhol). The Runner (Amir Naderi). The 400 Blows (Francois Truffaut). Daisies (Vera Chytilova). Hallelujah the Hills (Adolfas Mekas). One Way or Another (Sara Gómez). The Discreet Charm of the Bourgeoisie (Luis Buñuel).  Distant (Nuri Bilge Ceylan).
more TK, I promise JH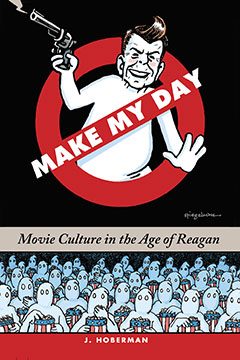 WEBSITE EXCLUSIVES!
On Jonas Mekas and Michael Casper: Dear N, I know I had asked to write Jonas Mekas's Conversations with Film-Makers but after reading Michael Casper's article in the June 7 issue of The New York Review of Books I can't do it, at least not yet. Read more…
On Trump the Entertainer: Donald J. Trump is not the first professional entertainer or pitchman to be elected president of the United States but, however he may refuse to break character or take an adjustment, he is not Ronald Reagan. Read more…    (Amazingly this post was picked up by Australian journalist Chris Zappone in the Sydney Morning Herald, cited by Dork Zabunyan in Trafik, and subsequently translated into French and published in SoFilm.) 
 2021
On Michael Snow [NYR.com] Based for most of the 1960s in Lower Manhattan, the Canadian painter, sculptor, musician, and maker of photographic objects Michael Snow was among New York's most significant interstitial artists. Read more…
On Boris Lurie, Erna Rosenstein & Alina Szapoczkow [Tablet.com] To write a poem after Auschwitz is barbaric. So declared the philosopher Theodor Adorno in the last paragraph of his 1951 essay "Cultural Criticism and Society." The line is surely Adorno's most notorious utterance, and also, yanked from its original context, his most misunderstood. Read more…
On Amos Vogel [NYT] Inside every movie buff lives a film critic. Inside every critic lives a film programmer. And inside every programmer's heart is a place for Amos Vogel. Read more…
On Bob Thompson [The Point.com] However reductive it may be to call the painter Bob Thompson the Jean-Michel Basquiat of the 1960s, the comparison is inescapable. Read more…
On David Dufresne's Monopoly of Violence [Artforum.com] Essentially a vehicle or solo performance, TikTok can make individual careers, but the humble Facebook-Twitter-YouTube ecosystem—identified by the British filmmaker Peter Snowdon as the vehicle for "vernacular video"—can make history. Read more…
On Alice Neel [The Point.com] Alice Neel is generally thought to be twentieth-century America's greatest portraitist—an assessment she would likely have rejected as too restrictive. Given her status, it's little wonder that "Alice Neel: People Come First," on view at New York's Metropolitan Museum of Art through July, may be the most enthusiastically received and is certainly most aptly named exhibition in the Met's recent history. Read more…
On Vittorio de Seta's "Lost World" [NYR.com]
On Jules Dassin's Uptight [Tablet.com]
On Jayden X's Shooting and Storming [Artforum.com]
PRINT ONLY: Top Ten Films [Artforum] On Neelon Crawford [Artforum] On Film Maudit [Sight and Sound] On Gulliver's "Cinematic Illusion" [Artforum]
NYT column Rewind
Out of the Blue . Chameleon Street. Illustrious Corpses La Strada . 2 Films by Louis Valray . FTA . Demonlover . Mandabi
  2020
On Peter Saul [The Point] If a painting is the material expression of an idea and if the ideas of the ruling class are in every epoch the ruling ideas, can we call Peter Saul our quintessential painter? Read more…
Aldo Tambellini obit [New York Times] Aldo Tambellini, a sculptor turned avant-garde filmmaker, pioneer video artist and veteran practitioner of multimedia installations, died on Thursday in Cambridge, Mass. He was 90. Read more…
On The Trial of the Chicago Seven [Los Angeles Review of Books] OK Boomer, the consensus (or maybe the algorithm) has spoken: the last time I checked, Aaron Sorkin's Trial of the Chicago 7 had a Tomatometer rating of 91 percent and an audience score of 92 percent. Read more…
On The Spook Who Sat By the Door [New York Times] There are movies whose back stories and reception histories are as compelling as the movies themselves. "The Spook Who Sat by the Door" is one. Read more…
On Predicting the Past [NYRB Daily] An artist is a person who invents an artist. So it has been said, neither by Marcel Duchamp nor by Jorge Luis Borges, but by Harold Rosenberg, the critic who invented a school of painting when he coined the term "action art."The American photographer Stephen Berkman could be said to have taken Rosenberg literally. Two decades in the making, Berkman's huge new book, Predicting the Past: Zohar Studios the Lost Years invents, creates, and explicates an artistic oeuvre—in this case, one that purportedly belonging to a nineteenth-century studio photographer named Shimmel Zohar. Read more…
On American Pickle [Tablet]
On Roy Cohn [Tablet]
On Nosferatu [Tablet]
On Dr Mabuse, the Gambler [New York Times]
On State Funeral [Artforum]
On Zoya Cherkovssky [Tablet]
On Cocteau's Orpheus (and Radok's Distant Journey) [Artforum]
Bruce Baillie obit [New York Times]
Mort Drucker obit [New York Times]
On Ben Katchor's The Dairy Restaurant [Bookforum]
On The Uprising [New York Times] Steven Soderbergh, after shooting his 2018 feature "Unsane" with an iPhone, declared smartphone cinema to be the future." Yet the technology is also a window on the recent past, as shown in the largely unknown masterpiece, "The Uprising," a 2014 film by the British journalist and documentarian Peter Snowdon. Read more…
On Camus's The Plague and Kazan's Panic in the Streets [Paris Review] The plague that gave Albert Camus's novel its title is the plague but it is also, as Stephen Spender put it in his 1948 New York Times review, a "Social Catastrophe." In that sense, The Plague is a political allegory with a large cast of quasi-allegorical characters—the perfect prototype for a disaster movie. Read more…
On Jean Seberg [New York Times] Jean Seberg (1938-79) began her career playing a martyr and ended it being one. Read more…
On Joker [Tablet] Every four years or so, typically around the time of a presidential election, a genre flick storms the zeitgeist with the force of its social metaphor. In 1969 it was Night of the Living Dead; in 1972, The Godfather. Rocky (1976), Ghostbusters (1984), The Matrix (1999), and The Passion of the Christ (2004) are other examples. So is Joker, Todd Phillips' Oscar-nominated addition to the Batman mythos, with Joaquin Phoenix, also up for an Oscar, in the title role. Read more…
On Satoshi Kon [New York Times] Looking over the lists critics have made of films and filmmakers that most impressed them during the past decade, I sorely miss the name of a 46-year-old director only hitting his stride at the time of his death in 2010, Satoshi Kon. Read more…
PRINT ONLY: On Mank [New York Review of Books] . On the book The Beginning or the End [Sight and Sound] . On Martin Eden [New York Review of Books] . On State Funeral [Artforum] . On Cocteau's Orphee and Radok's Distant Journey [Artforum]. On Heimat is a Space in Time [Film Comment]. On Jacques Tati [Film Comment]. On The Whistlers [Artforum] 
NYT column Rewind
Goodbye Dragon Inn . Francesca . Damnation . Route 1 . Madchen in Uniform . Investigation of a Citizen Above Suspicion . India Song . Come and See . Pandora and the Flying Dutchman . Guns of the Trees . Masque of the Red Death 
2019
On Mary Harron's Charlie Says [New York Times]
On High Noon and The Godfather [Tablet]
On Victor Serge's Mexican Journals
On the book Haunted Bauhaus [Artforum]
On Synonyms [NYR Daily]
On 3 Golden Age Mexican Movies [New York Times]
On Salvador Dali and the Marx Brothers [Tablet]
On Porgy and Bess [The Forward]
On Robert Frank [Artforum.com] The week Robert Frank died, the West Berlin building formerly known as Amerika Haus, now the gallery C/O Berlin, opened the exhibition "Robert Frank: Unseen." As it happened, I was in town, staying no more than a few blocks away. Read more…
On S. Craig Zahler [New York Times]
On the book Frame by Frame [Artforum]
On Gaslight and Gaslighting  [New York Times]
On Once Upon a Time in Hollywood [NYR Daily]
On Ingmar Bergman's Summer Movies [New York Times]
On Ronald Reagan's "Reel Life" [NYR Daily]
On Fritz Lang's Woman in the Moon [New York Times]
On Barbara Rubin & the Exploding New York Underground [NYR Daily]
On Bitter Money and Bitter Rice [New York Times]
On Enzo Traverso's The New Face of Fascism[Bookforum]
On the cult film Beat the Devil [New York Times] John Huston's "Beat the Devil," the Humphrey Bogart vehicle once advertised as a decade ahead of its time, is now an official senior citizen, having opened in New York 65 years ago this month. Read more…
On Věra Chytilová's Daisies [Artforum] Published toward the end of 1964 in the avant-pop journal Evergreen Review, Susan Sontag's essay-manifesto "Against Interpretation" ended with the ringing declaration that "in place of a hermeneutics we need an erotics of art." Her model for this aesthetic revolution was the movies. Two years later, in 1966, Czech director Věra Chytilová and screenwriter–production designer Ester Krumbachová debuted a sort of cinematic version of Sontag's call to arms. Read more…
On Steve Bannon in the movies [Tablet] Clint Eastwood was "The Man with No Name," Steve Martin played "The Man with Two Brains," but alt-right rogue Stephen K. Bannon—the subject and star of two new documentaries—is "The Man with Two Shirts." Read more…
On László Nemes's Sunset [NYRB Daily] Sunset, the forty-two-year-old French-Hungarian filmmaker László Nemes's follow-up to his astonishing 2015 debutSon of Saul, is a gothic melodrama and a modernist period piece that, set on the eve of World War I and shadowed by impending doom, might be called "Mysteries of Budapest" or even, after Arthur Schnitzler's 1926 novella, "Dream Story." Read more…
On Dusan Makavejev [Tablet] Three titans of the '60s counterculture died within two weeks this past January: Jonas Mekas, the main force behind the New American Cinema, aka underground movies; Izzy Young, the original folkie and prime organizer of the Greenwich Village folk revival; and Dušan Makavejev, the taboo-busting Yugoslav filmmaker who made the quintessential counterculture film WR: Mysteries of the Organism. Read more…
On Sofia Coppola [New York Times] The writer-director Sofia Coppola, fortune's child, is blessed and cursed for reasons beyond her control. Is it an advantage or disadvantage to have a supportive, larger-than-life father who is a world-famous filmmaker? Read more…
On Car Wash [New York Times] Every decade or so, Hollywood produces a movie that is not only entertaining but also raises the question just what is entertainment. Read more…
On Jonas Mekas [New Yorker.com] Around the time I realized that Jonas Mekas wouldn't live forever—perhaps fifteen years ago, after he had passed eighty—I began to think about how he would be remembered. At the time, I was still at the Village Voice… Read more…
On Godard's The Image Book [NYRB Daily] A head-scratcher and a mind-bender, The Image Book—the latest film by eighty-eight-year-old Jean-Luc Godard—is gloriously obscure and brutally unpretty, yet lucid and even gorgeous all the same. Read more…
PRINT ONLY: On Glauber Rocha's On Cinema, Film Comment (September); On Christian Petzold's Transit, New York Review of Books (3/7/19); On Bi Gan's Long Day's Journey into Night, Artforum (March 2019); On Triumph of the Will, Film Comment (Jan-Feb 2019).
NYT column Rewind
The White Sheik . Kind Hearts and Coronets . Duet for Cannibals . My 20th Century . Filibus . The Harder They Come . Olivia . The Cremator . Mikey and Nicky . The Queen . A Bigger Splash . Hyenas . A Very Curious Girl . Christ Stopped at Eboli . Room at the Top . Quick Millions . Police Story . Shiraz . La religieuse.
2018
On Sergio Corbucci and The Great Silence [New York Times] One of the best genre films of 1968 was among the very best commercial releases of 2018. Sergio Corbucci's "The Great Silence" escaped the vault and is available for streaming from Amazon Prime and Vudu. Read more…
10 Best Jewish Films [Tablet] Why struggle to reframe a suitably Talmudic answer to the eternal question—what makes a Jewish film Jewish? Here is the simplest, most arbitrary formulation. A Jewish movie is a movie that strikes me as being of at least potential interest to the Tablet readership. Read more…
On Chris Marker's The Owl's Legacy [New York Times] Chris Marker's 1989 television series, "The Owl's Legacy," is something for the ages. This 13-episode examination of ancient Greece's contribution to the modern world is at once illuminating and confounding, heady but playful. Read more…
On The Black Cat and other Lugosi-Karloff features [New York Times] Now considered a classic, "The Black Cat" (1934) was the first movie to feature Universal's two prized assets, Boris Karloff and Bela Lugosi, and the studio's excitement was palpable. Read more…
On Yael Bartana's installation And Europe Will Be Stunned [Tablet.com] Are we not the People of the Book? Zionism was a utopian project first imagined by writers— Theodor Herzl, Max Nordau, Israel Zangwill, and Ze'ev Jabotinsky among them. As that thought experiment was early realized in Herzl's 1902 novel, Altneuland, so the activist-artist Yael Bartana, born in a moshav ovdim in northern Israel, willed into existence a reverse (or perhaps alt) Zionism with her video trilogy, And Europe Will Be Stunned—namely the not quite fictitious or entirely ironic Jewish Renaissance Movement in Poland. Read more…
On Brett Kavanaugh and Conan the Barbarian [Film Comment.com] Do movies leave an impression? Watching the September 27 cinematic event known as the Kavanaugh Hearing, one might wonder. If you were an American kid during the season in which 15-year-old Christine Blasey encountered 17-year-old Brett "Bart" Kavanaugh and Mark Judge, you and your parents undoubtably saw E.T. If you had (or were) a hip older sibling, you might have caught the more complicated Blade Runner. But if you were a brewski-chugging body-builder, the movie of movies was Conan the Barbarian. Read more…
Pretty Poison and the original Gun Crazy [New York Times] "Pretty Poison," starring Anthony Perkins and Tuesday Weld, was hardly the greatest Hollywood movie of 1968. As a film about delusional young folk run murderously wild, and the subject of critics' debates, it was however one of that turbulent year's quintessential stories. Read more…
On Night of the Living Dead and 1968 [NYRB Daily] The movie that was "1968" was a multi-screen extravaganza orchestrated by a mad projectionist who kept changing reels. Read more…
On The Holy Mountain and The White Hell of Pitz Palu [New York Times] A mountaineer turned amateur filmmaker who became a major figure in German silent cinema, Arnold Fanck (1889-1974) is remembered largely as the man who made the dancer and future Nazi documentarian, Leni Riefenstahl a star — typically, she would claim, at her suggestion. Read more…
On Paradjanov's The Color of Pomegranates and Fernando Birri's ORG [New York Times] Understanding is not synonymous with enjoying. The visual language of some movies is so personal and hermetic that interpreting it could be compared to reading a novel written in hieroglyphics. "The Color of Pomegranates," also known as "Sayat Nova," made by the Soviet director Sergei Parajanov (1924-1990) is one. Read more…
On the Neue Galerie's exhibition "Before the Fall" and working at YIVO [The Forward] Currently at the Neue Galerie, the exhibition "Before the Fall: German and Austrian Art of 1930s," is as fateful as its title suggests — devoted to paintings, photographs, prints and drawings made under the lengthening shadow of Nazi terror. Read more…
On Sam Fuller's Underworld USA and Fritz Lang's last Hollywood films [New York Times] Twenty years after Samuel Fuller's death, his complete oeuvre is becoming available on disc — one jolt at a time. The last of the remaining stragglers is the 1961 crime-syndicate classic, "Underworld U.S.A.," out on Blu-ray from Twilight Time. It's a movie of which the British critic V. F. Perkins wrote, "every shot is a smack in the eye." Read more…
On Lucrecia Martel [New York Times] When the Argentine filmmaker Lucrecia Martel expresses admiration for those directors who challenge reality, she could be talking about herself. Read more…
On G.W. Pabst's Westfront 1918 and the 3-D Korean War film Cease Fire! [New York Times] Verisimilitude is always an issue with a war film. "You can't show war as it really is on the screen, with all the blood and gore," the director Samuel Fuller once observed, suggesting that it might be better to "fire real shots over the audience's head" and "have actual casualties in the theater." Read more…
On The Death of Stalin [Tablet] A dark comedy with an inappropriately antic tone, opening here a week after Purim, The Death of Stalin has something to offend everyone—Slavophiles and Slavophobes, The Nation and The National Review, erudite professors and historical ignoramuses, neo-Stalinists and anti-Stalinists of all persuasions. Read more…
On Josef Albers in Mexico [NYRB Daily] Not long after their arrival to the United States, the Bauhaus instructors Josef and Anni Albers went looking for America and found it… in Mexico. Read more…
On The Woman Who Left by Lav Diaz and Casa de Lava by Pedro Costa [New York Times] Lav Diaz, a writer-director who divides his time between his native Philippines and Queens, N.Y., is a prolific filmmaker as well as a master of what is sometimes called slow cinema. Read more…
On John Ford's Young Mr. Lincoln and Washington Masquerade [New York Times] John Ford's "Young Mr. Lincoln," released in 1939 and now on Blu-ray in a new 4K digital restoration from Criterion, is a prime example of American mythmaking. Read more…
On "The Age of Terror: Art Since 9/11" [NYRB Daily] Full disclosure: My personal experience of "Age of Terror: Art since 9/11," the recently-opened exhibition at London's Imperial War Museum, was informed by the fact that, not thirty-six hours before, a stretch of the Lower Manhattan bike path that, a few blocks from where the World Trade Center stood, is part of my daily routine was the site of a truck attack that killed eight people and injured eleven others. Read more…
PRINT ONLY: On The Other Side of the Wind, Harper's (December 2018); Top Ten 2018, Artforum (December 2018); On Evergreen Review and the movies, Artforum (Summer 2918); On Alain Resnais's photo-novel Reparages, Aperture (Summer 2018); On the newspaper PM, Artforum (May 2018); On Tuli Kupferberg's zine Yeah, Artforum (March 2018); On Phantom Thread, New York Review of Books (2/28/18); On Barbet Schroeder's Idi Amin Dada, Criterion Collection.
NYT column Rewind
2018: Easy Living . Highway Patrolman . Les Rendez-vous d'Anna . The Fog .  Sisters. Lucia. Sympathy for the Devil (One Plus One) . One Sings, The Other Doesn't . Ernst Lubitsch's Rosita. After Hours. In the Year of the Pig . Cold Water . Liquid Sky . Children of Men . Time Regained . No Vietnamese Ever Called Me Nigger . Salesman . Memories of Underdevelopment .
2017: Chung Kuo – Cina . Letter from an Unknown Woman . Women in Love . The Passion of Joan of Arc . The Crime of M. Lange . Daughter of the Nile . Maigret Makes a Case . James Whale's The Old Dark House . Steven Arnold's Luminous Procuress . Close Encounters of the Third Kind . Eric Rohmer's Le rayon vert . Revolution & The Greenwich Village Story . Jean-Luc Godard's Le Gai Savoir .  It's Great to Be Alive . Jacques Becker's Le Trou . Toshio Matsumoto's Funeral Parade of Roses . Luchino Visconti's The Stranger . Jean-Pierre Melville's Leon Morin, Priest .
RECENT PUBLICATIONS!
2017
Top Ten Jewish Films 2017 [Tablet]
On Pere Portabella's Vampir Cuadec & Stan Brakhage's Anticipation of the Night [New York Times] "Vampir Cuadecuc" is a ghostly film as well as the ghost of a film and perhaps the ghost of cinema itself. Read more…
On Enzo Traverso's Left-Wing Melancholy [The Nation] Can a symptom explain itself? Enzo Traverso's Left-Wing Melancholia is both an example and an explication of a particular condition, namely the post-1989 red blues. Read more…
On Eddy Portnoy's Bad Rabbi [New York Times Book Review] In the staid world of academic Yiddishists, Eddy Portnoy is a live wire, a funny guy, a mischief-maker, what they used to call in the Catskills, a tumbler. Read more…
On Hedy Lamarr [Tablet]
On Jean Rouch & Ernie Kovacs [New York Times]
On "The Non-Actor" [NYRB Daily]
On The Sea Wolf and Titanic  [New York Times]
On The Florida Project [NYRB Daily]
On Arthur Szyk [Tablet]
On Peter Saul's new paintings [NYRB Daily]
On the photo book California Infernal [Film Comment] Has the feebleness of so-called studio filmmaking stimulated an appetite for Hollywood backstories?
On Welles's Othello and Filming "Othello" [New York Times]
On two cops: The '50s TV show Decoy and the Pink Panther movies [New York Times] It's a case of good cop, bad cop: The 1957-58 series "Decoy," an obscure gem from the golden age of network television, has been issued in its entirety on a three-disc set from Film Chest Media Group. And all six movies about the blundering Inspector Clouseau, starring Peter Sellers and directed by Blake Edwards (who also did much of the writing), are out from Shout! Factory as the six-Blu-ray "Pink Panther Film Collection." Read more…
On Nocturama [NYRB Daily] A shabby-chic cadre of photogenic young Parisians coordinate a series of terrorist attacks, blowing up or setting fire to buildings and monuments throughout the city, then take refuge after nightfall in an empty department store. Nocturama, the French filmmaker Bertrand Bonello's daring and controversial follow-up to his 2014 Yves Saint Laurent biopic, is even more relentlessly stylish than its predecessor. Read more…
On two movies by Nick Ray, They Live by Night and Savage Innocents [New York Times] Nicholas Ray's "They Live by Night" (new on disc from Criterion) is a remarkable debut as well as an agonizingly pure love story — the most lyrical film of the director's career. Read more…
On Menashe  [New York Times] A Yiddish-language feature made with nonprofessional actors on the streets of Brooklyn? Joshua Z. Weinstein's Menashe is not the product of a time machine but the belated rebirth of a venerable tradition. Read more…
On both versions of The Beguiled [NYRBlog] Seen strictly on its own terms, Sofia Coppola's remake of The Beguiled is an adept, mildly wicked, discreetly violent riff on the relations between men and women. Put next to the original, an overheated Clint Eastwood vehicle, directed by Don Siegel, it's a good deal more. Read more…
On The Wages of Fear [Lapham's Quarterly] The Wages of Fear, directed by Henri-Georges Clouzot and first shown at the Cannes Film Festival in the spring of 1953, is movie as doom show: the four principal characters have signed on to a suicide mission, driving two truckloads of nitroglycerin across three hundred miles of winding, mountainous, badly paved roads. Read more…
25 Films for the 21st Century People have been asking me so I thought I might as well join (or crash) the party initiated by The New York Times last week and put in my two cents regarding the 25 Best Films of the 21st Century (so far). Read more…
On Saturday Night Fever at 40 [New York Times] The first year of Jimmy Carter's presidency was extraordinary for Hollywood: "Star Wars" opened in May 1977 and "Close Encounters of the Third Kind" in November, followed weeks later by "Saturday Night Fever." Read more…
On Andrzej Wajda's Afterimage [NYRBlog] Few filmmakers meant as much to his country as Andrzej Wajda did to Poland. Both a world-famous director and a national conscience, Wajda—who died last October at age ninety—was a singular artist. It is appropriate then that his final film, hauntingly titled Afterimage would be a drama concerning the last years of another Polish artist, the abstract painter Władysław Strzemiński (1893–1952).  Read more…
On The Wedding Plan [Tablet.com] I am not a religious Jew. Nor do I believe in Hollywood happy endings. Yet I can't deny my fascination with the second feature by the ultra-Orthodox Israeli director Rama Burshtein. Read more…
On Paz Encina [Artforum] Paz Encina makes film objects and situational documentaries, or sit-docs, movies in which a dramatic narrative is transparently constructed from a handful of organized audiovisual facts. Sound in Encina's minimalist films generally takes precedence over image. The artist is a formalist whose subject is the history of her native Paraguay—poor, landlocked, governed for decades by the ruthless right-wing dictator General Alfredo Stroessner. Read more…
On Michael Reeves and British gothic film [New York Times] Credited with directing three déclassé horror movies, dead from an overdose of barbiturates at 25, the British filmmaker Michael Reeves (1943-1969) is a quintessential cult figure. Read more…
On Jean-Pierre Léaud [New York Times] Something more than an actor or even a movie star, Jean-Pierre Léaud is a man who has lived his life on film. Read more…
On Get Out [NYRBlog] Conceived in the waning days of Barack Obama's presidency and premiered at the Sundance Film Festival, four days after Donald Trump assumed power, the comedian Jordan Peele's semi-parodic horror film Get Out has a complexity worthy of its historical moment. Read more…
Gustav Metzger 1926-2017 [Tablet.com] Gustav Metzger, one of the most provocative and politically-minded anti-artists of the late 20th century, died last week in London, the city where he arrived as a 13-year-old in 1939 on a Kindertransport from Nazi Germany. Read more…
On The Settlers [Tablet.com] One of the first things to strike you in The Settlers, Shimon Dotan's compelling, strongly articulated documentary portrait of Israelis and others living adjacent to the state of Israel on the occupied West Bank, is the quality of the light. Just about the last thing that Dotan shows is a scene of the gathering darkness. Read more…
On two silent movies, Children of Divorce and The Salvation Hunters [New York Times] "The past is a foreign country," the British novelist L. P. Hartley wrote. "They do things differently there." In silent movies, you might say they act differently. Read more…
On Film Noir, Jewish Refugees and the Age of Trump [Tablet.com] It may be an exaggeration to credit a group of Jewish refugees with inventing the Hollywood tendency known as film noir—but not by much. Read more…
On Gerhardt Richter's Comic Strip [NYRBlog] Before the blurry "photo paintings"—large images based on family snapshots or magazine ads—that would establish his preeminence, Gerhard Richter experimented with another form of Pop: cartoon drawings. Read more…
On William Wellman's pre-Code movies [New York Times] Provocative, slangy and typically running well under 90 minutes, the pre-Production Code Hollywood movies of the early 1930s can be addictive. Read more…
On Sterne [Tablet.com] Sterne [Stars], an East German-Bulgarian co-production that won a major prize at the 1959 Cannes Film Festival and thereafter fell into obscurity, is itself the story of a memory on the brink of oblivion. Read more…
PRINT ONLY: Top Ten 2017, Artforum (December 2017); On the book Hitler's Monsters, Bookforum (November 2017) On H.G. Adler's Theresienstadt 1941-1945, Bookforum (June 2017); On the exhibition "Inventing Downtown," London Review of Books (March 30, 2017); On Mexican director Julio Bracho, Artforum (Feb 2017); On Pablo Larrain's Neruda, Artforum (Jan 2017)
2016
On Paint the Revolution [NYRBlog] In 1929, the Surrealist poet Paul Éluard did away with the United States. In a map of the world attributed to him that year, the American republic (except for a giant Alaska) has been subsumed by Labrador in the north and a sprawling Mexico in the south. The image of Mexico as the center of the new world—and as what André Breton called "the surrealist country par excellence"—is a take-away from the exhibition "Paint the Revolution: Mexican Modernism 1910-1950," now showing at the Philadelphia Museum of Art. Read more…
On  Jewish Films 2016 [Tablet.com] It's not just Jewish movies: All films are living in the cine diaspora. Motion pictures are where you find them—on disc, online, in museum galleries, between covers—as well as in film festivals and multiplex theaters. Herewith the best of those I saw this year. Read more…
On Robert Bresson [New York Times] The great French filmmaker Robert Bresson (1901-1999) not only made movies but also gave instructions about how his films might be watched and thought about. Read more…
On Raúl Ruiz [New York Times] Does it hinder an artist to be adored by a coterie? Can a filmmaker be obscured by the vastness of his output? Read more…
On Andrzej Wajda [New York Times] Andrzej Wajda, who died this week at age 90, was Poland's greatest filmmaker, as well as a union activist, a supporter of dissidents and for a time a senator, but he was something more. Read more…
On Election Year Movies [New York Times] Entertainment's golden rule: Whatever worked once may work yet again. Most movie remakes are produced to make money. A few have an agenda. Read more…
On Nate Turner and The Birth of a Nation [Tablet.com] In some ways, the most audacious thing about Nate Parker's much-hyped new movie The Birth of a Nation is its title. Read more…
On Double Features [New York Times] There are times when one plus one equals three — at least at the movies. Return of the Double Feature!, a 26-day retrospective series opening on Friday at Film Forum, offers proof. Read more…
On Demon [Tablet] S. Anski's verse play The Dybbuk is arguably the key Jewish artwork of the past century as well as the unexpected inspiration for an audacious new Polish film, Demon, co-written and directed by the late Marcin Wrona. Read more…
On Bruce Conner at MoMA [NYRBlog] "It's All True," the title of the Museum of Modern Art's powerful retrospective of the American artist Bruce Conner (1933-2008), comes from a letter Conner wrote to one of his gallerists in the aftermath of his only previous museum retrospective, organized by the Walker Art Center in Minneapolis in 1999:
"My work is described as beautiful, horrible, hogwash, genius, maundering, precise, quaint, avant-garde, historical, hackneyed, masterful, trivial, intense, mystical, virtuosic, bewildering, absorbing, concise, absurd, amusing, innovative, nostalgic, contemporary, iconoclastic, sophisticated, trash, masterpieces, etc. It's all true."
How about "sinister," "creepy," and "indelible"? Read more…
Peter Hutton 1944-2016 [New York Times] Peter Hutton, an experimental filmmaker noted for his contemplative, sensuous, masterfully photographed portraits of landscapes and cities, died on Saturday in Poughkeepsie, N.Y. He was 71. Read more…
On Kaili Blues [NYRBlog] Kaili Blues, an eccentric, remarkably assured first feature by the young Chinese director Bi Gan, is both the most elusive and the most memorable new movie that I've seen in quite some time—"elusive" and "memorable" being central to Bi's ambitions. Read more…
On the King of Jazz restoration [New York Times] A significant movie restoration not only can return a film's patina of newness but its place in film history as well. That may be the case when the musical revue "King of Jazz" (1930), brought back to something of its original splendor, emerges from the vaults in the soft, shimmering red and green tones of early Technicolor. Read more…
On Straub Huillet at MoMA [New York Times] Some movies want to be loved. Others prefer to be admired. And then there are the movies, like those by Jean-Marie Straub and Danièle Huillet, that, indifferent to love or admiration, are monuments to their own integrity. Read more…
On Eva Hesse [Tablet.com] Had she lived, artist Eva Hesse would have turned 80 this year. But lovely-looking, dark-eyed, and dead at 34, she personifies transitory beauty. So does her groundbreaking work… Read more…
Tony Conrad 1940-2016 [New York Times] Tony Conrad, an experimental filmmaker, avant-garde musician and university educator who in the 1960s was a central figure in a flowering Lower Manhattan art movement, died on Saturday at a hospice in Cheektowaga, N.Y., near Buffalo. He was 76. Read more…
 On the rediscovered movie Who's Crazy? [New York Times] There was a time in the late 1960s when artistic vanguards joined forces: Andy Warhol produced an album with the Velvet Underground, the rock star John Lennon teamed with the conceptual artist Yoko Ono, and Norman Mailer tried his hand at experimental films. More obscurely, Thomas White, a 33-year-old American in Paris, produced a semi-improvised movie featuring members of the avant-garde Living Theater and a soundtrack by the free jazz exponent Ornette Coleman. Read more…
On "Coney Island: Visions of an American Dreamland" [NYRBlog] "The only thing about America that interests me is Coney Island," Sigmund Freud is supposed to have said—and the itinerary of Freud's 1909 trip to America did include a visit to Dreamland, then the newest of Coney Island's original three amusement parks. Read more…
On Irving Thalberg [Tablet] Darryl F. Zanuck won the first one in 1937 and two thereafter. Walt Disney won it. So did Cecil B. DeMille, Alfred Hitchcock, and, a rare outsider, Ingmar Bergman. Steven Spielberg got it eight years before he won an Oscar. George Lucas got one too, the only Academy Award he'll ever need. Oscars are a dime a dozen but, in the 79 years since Zanuck took one home, only 39 of these babies have been awarded. Honored in 2010, Francis Ford Coppola was the last to receive it. It is the Irving G. Thalberg Memorial Award—Hollywood's ultimate self-tribute given to those "creative producers, whose bodies of work reflect a consistently high quality of motion picture production." Read more…
On the 1950 movie Native Son [New York Times] Novelists might dream of playing their protagonists in the movies. Few have enjoyed the opportunity. The crime writer Mickey Spillane was one. Richard Wright, the most celebrated African-American novelist of his day, was another. Read more…
On Rabin, the Last Day [Tablet.com] Rabin, The Last Day, Amos Gitai's sprawling, scarific two-and-a-half-hour quasi-documentary on the November 1995 assassination of Prime Minister Yitzhak Rabin by a young religious fanatic, Yigal Amir, after the signing of the Oslo Accords, begins by interviewing Rabin's comrade Shimon Peres regarding the vilification the two men suffered after Oslo: "Sedition was in the air," Peres says. Read more…
2015
Andrew Noren 1942-2015 [New York Times] The avant-garde film universe is small, so when a star, even a distant one, vanishes, attention is paid. It was not so in May, when Andrew Noren died of lung cancer at the age of 71. Read more…
On Son of Saul [Tablet.com] An immersion in Auschwitz during the mass murder frenzy of October 1944, when the gassing of Hungarian Jews had been nearly completed, Son of Saul—a first feature by the French-Hungarian director László Nemes—is not a movie to recommend lightly. Read more…
On Jim Shaw [NYRBlog] The term "outsider art" was coined in 1972 by the British art historian Roger Cardinal as a way to categorize work that might otherwise be described as naïve, fanatical, eccentric, autistic, or insane. The Los Angeles artist Jim Shaw is a connoisseur and collector of such things… Read more…
On Chantal Akerman [New York Times] Chantal Akerman, the Belgian-born filmmaker who died in Paris at age 65, was a prodigy. Almost before her career began, she wrote and directed one of the key artworks of the 20th century. Read more…
Chantal Akerman 1950-2015 [Tablet.com] One of the major film artists of our day, Chantal Akerman died suddenly in Paris, earlier this week. Read more…
On The Walk [NYRBlog] Two twenty-first century phenomena have changed the way moving pictures are made and perceived. The first is the accelerating use of digital technology and the inexorable rise of a cyborg cinema that, by combining animated and photographic images, compromises the direct relationship to reality that had long been the medium's claim to truth. The second is the trauma of September 11, 2001, which for many provided the ultimate movie experience that was more than a movie—spectacular destruction, broadcast live, and watched by an audience, more or less simultaneously, of billions. Both events inform The Walk, the new 3-D movie by Robert Zemeckis that recounts and reconstructs the French aerialist Philippe Petit's high-wire stroll between the Twin Towers of the World Trade Center in 1974. Read more…
On Robert Zemeckis [New York Times] This fall is the season of Robert Zemeckis, the 63-year-old Chicago-born writer-director who began making movies in the 1970s and changed American history, at least metaphorically, with his two huge hits "Back to the Future" (1985) and "Forrest Gump" (1994). Read more…
On Thomas Hart Benton and Hollywood [Artforum] Walt Whitman heard America singing; Thomas Hart Benton (1889–1975) heard the nation shouting, snapping its suspenders, slapping itself on the back, and dancing a buck-and-wing. Read more…
On The Kindergarten Teacher [Tablet] The subject of writer-director Nadav Lapid's latest movie is a precocious 5-year-old poet. Lapid, who is 40, can hardly be considered a child prodigy. Still, his two features, Policeman (2011) and The Kindergarten Teacher (2014) have made him the most internationally acclaimed Israeli filmmaker in recent memory… and perhaps ever. Read more…
On Phoenix [Tablet] A psychological thriller set in the aftermath of World War II, the German director Christian Petzold's Phoenix is a variant on a myth—the story of Orpheus and Eurydice—that has served many filmmakers. Read more…
On Mexican film noir [New York Times] A fake clairvoyant is outmaneuvered by the fetching widow he hopes to blackmail; a meek manicurist plots to replace her wealthy twin sister; an arrogant athlete is tricked into framing himself.The program "Mexico at Midnight," at the Museum of Modern Art, overflows with fatalistic tales of passion, jealousy and betrayal. Read more…
On "Folk City" [Tablet] I confess. I was a teenage folkie—or at least I passed for one. I wore blue chambray work shirts and a red-and-black checkered lumber jacket to school. I took the E train to West 4th Street, milled around the fountain in Washington Square, smoked unfiltered cigarettes and drank coffee at Reggio, had my heart broken by long-haired girls who wore Fred Braun sandals. Read more…
On The Wolfpack and The Tribe [NYRBlog] Though they are set at opposite ends of the earth and represent opposed forms of cinema, The Wolfpack and The Tribe have much in common. Both new films share a concern with male-dominated groups vying for power inside what Nietzsche called "the prison house of language" Read more…
On Spencer Williams [New York Times] The history of American cinema is hardly synonymous with Hollywood's. "A Road Three Hundred Years Long: Cinema and the Great Migration," the wide-ranging series opening Monday at the Museum of Modern Art, not only maps the perimeters of African-American filmmaking but also showcases movies that defy characterization. Read more…
On Edward Owens [Artforum] The list of teenage filmmakers ssociated with the New American Cinema during its late-1960s glory days includes Barbara Rubin, Warren Sonbert, George Landow, and Robert Beavers.To these we can add Edward Owens (1949–2009), whose precocious 16-mm movies gathered dust on the shelves of the Film-Makers' Cooperative for decades. Read more…
On Germany's Forbidden Films [New York Times] The Third Reich was not only a totalitarian state but also a total multimedia regime. Seven decades after its fiery collapse, the embers remain — including some 1,200 feature films produced under Joseph Goebbels's ministry of propaganda. Are they historical evidence, incitements to murder, fascist pornography, evergreen entertainments, toxic waste or passé kitsch? All of the above? Read more…
On Bryan Burrough's Days of Rage [Los Angeles Times] Once upon a time, as a college senior in autumn 1970, I organized a committee to block a politician from making a campaign appearance on campus and sought support from a not-unsympathetic faculty member. Read more…
On Jack Smith's Hamlet in the Rented World [Artforum] Given that Jack Smith never actually completed another movie after Flaming Creatures (1963), that most of his theater pieces concern the impossibility of their coming into existence, and that many all-but-identical drafts of the same scripts were found among his papers, it's hardly surprising that he should have been fascinated by the most famously indecisive character in world literature. Read more…
On Afrofuturist Film [New York Times] "Being black in America is a science-fiction experience," the culture critic and musician Greg Tate once asserted in an interview, articulating the premise for what has come to be called Afrofuturism. Read more…
On Siegfried Kracauer and Photography [NYRBlog] A photograph is a physical "representation of time," the cultural journalist and polymath Siegfried Kracauer wrote in an article titled "Photography," published on the front page of Frankfurter Zeitung in late 1927.  Read more…
On Maps to the Stars and The Congress [Tablet] Some weeks ago, during the course of a televised discussion on Selma and the Oscars, an old colleague of mine explained that the reason the Motion Picture Academy appeared so oblivious to movies by or about women and people of color was that the Academy members "all look like me," which he clarified as "over 50" and Jewish (adding, "I would quit if I were a member"). How responsible should Jews feel for Hollywood? Read more…
On Batman and Pop Art [Artforum] Loved and loathed beyond measure, the televised Batman (ABC, 1966–68) arrived sufficiently late in the day to recognize itself as a manufactured craze. The show, initially broadcast cliff-hanger style on successive evenings, Wednesdays and Thursdays at 7:30 PM, lasted only two and a half seasons—just a speed bump in Batman's nearly eight-decade career—but its goofy lèse-majesté besmirched the durable icon forever. Read more…
On Jean-Luc Godard's Montreal lectures [The Nation] "I'm always surprised to see what I do," Jean-Luc Godard admits at the beginning of a talk delivered, nearly four decades ago, at Concordia University in Montreal. Could the single most influential filmmaker of his generation, who is still a provocateur at age 84, possibly be as baffled as we? Read more…
On American Sniper [NYRBlog] A country boy, who is a fabulous natural shot, goes to war and neutralizes an unprecedented number of enemy combatants. Books are written. A respected Hollywood director makes the movie that will be the biggest hit of his career: it's received with near-unanimous praise, an Oscar nomination for Best Picture, and no small amount of controversy. Read more…
On "The Left Front: Radical Art in the 'Red Decade,' 1929-40" [Tablet] Entering "The Left Front," the exhibition of political art from the 1930s, currently at NYU's Grey Art Gallery through April 4, is to enter a foreign—but not completely unfamiliar world. Read more…
On Tomi Ungerer [NYRBlog Gallery] It may be that everyone has their own Tomi Ungerer. The eighty-three-year-old graphic artist and illustrator's work has been part of many people's childhoods, others' countercultures, still others' outrage, and, at one point in his career, every straphanger's New York. Read more…
On Alexei German [New York Times] Aleksei German, who died last February at the age of 74 while putting the finishing touches on his most ambitious film, the long-awaited "Hard to Be a God," was regarded by some as Russia's greatest living director — despite, or perhaps because of, the fact that he managed to complete but a handful of features in a nearly half-century career. Read more…
On Two Days, One Night [NYRBlog] A thirty-something factory worker in a Belgian rustbelt town returns from medical leave to discover she's become redundant. She has a weekend in which to persuade a majority of her sixteen colleagues to sacrifice their thousand-euro bonuses so that she can get back her job. Such is the situation dramatized by the Belgian filmmaker-brothers Jean-Pierre and Luc Dardenne. Read more… 
On Inherent Vice [Artforum] It is obvious by now that Paul Thomas Anderson isn't making individual movies so much as building an oeuvre block by block—the sturdiest, most resilient body of work by a big-time American director since Stanley Kubrick died and Martin Scorsese ran out of steam. Read more…
2014
On David Lynch's paintings [NYRBlog Gallery] Like Andy Warhol and Salvador Dali, David Lynch is a name-brand artist who confounds conventional categories. Read more…
On Peter Forgacs's installation [Tablet] "Last night I was in the Kingdom of Shadows," reported Maxim Gorky after attending a program of "Living Photography" at the Nizhny Novgorod Fair during the summer of 1896. "The extraordinary impression it creates is so unique and complex that I doubt my ability to describe it with all its nuances." You may feel the same way after an hour spent with the video installation Letters to Afar. Read more…
On "What Nerve!" [NYRBlog] "What Nerve! Alternative Figures in American Art, 1960 to the Present," the provocatively titled exhibit at the RISD Museum in Providence, presents a bracing counter to one prevailing way of telling the story of postwar American art. Read more…
On the 1968 New York Film Festival (written in 1968) [Film Comment Blog] Yes, I know. I was a teenaged know-it-all, as well as a rabid soixante-huitard, a serious pothead, occasional speed freak, and fanatical cinephile. Read more…
On Georgian cinema [New York Times] Squeezed between the Black and Caspian Seas, as it was among the Roman and Persian, and Ottoman and Russian empires, Georgia is a small realm with a spectacular natural setting and a proud past. Read more…
On Hou Hsiao-hsien [NYRBlog] Although the Taiwanese director Hou Hsiao-hsien has been making movies since the early 1980s, I first became convinced of his genius when I saw The Puppetmaster(1993) some twenty years ago. Read more…
On Tabu, People on Sunday, and the lost paradise of silent film [Artforum] The doors of Eden banged shut. Even so, during the summer of 1929, facing the clamorous inevitability of the talking picture and only months before the crash that would announce the Great Depression, a handful of filmmakers sought refuge in the "natural world" of the soundless movie. Read more…
On the films of the Hollywood blacklisted [New York Times] The close-up, the big screen, the eternal klieg light of unending media coverage: Motion pictures, especially those made in Hollywood, are a technology of magnification. How else to explain that the tale of the 300 or so movie studio employees whose political associations cost them their jobs has come to dramatize the repressive hysteria of the McCarthy era? Read more…
On Snowpiercer [NYRBlog] Bong Joon Ho's Snowpiercer is a madcap addition to the comic-book-derived movies that have dominated cinematic summer fare for much of the twenty-first century. At once streamlined and ramshackle, it doesn't have a plot so much as a premise—or rather, a ruling metaphor. Read more… 
NEW YORK TIMES DVD/BLU-RAY REVIEWS
2016: A Brighter Summer Day & Freaks and Geeks . Dead Pigeon on Beethoven Street & Cutter's Way . Robert Drew's JFK films & Panic in Year Zero . Losing Ground & Chantal Akerman's documentaries. Taviani Brothers . Death by Hanging & I Want to Live! . L'inhumaine . Out 1 & Paris is Ours . Triumph of the Will & two Hollywood anti-Nazi films. Bound for Glory & The Southerner . The American Friend . The Assassin . Richard Lester . Julien Duvivier . Stations of the Elevated & the Brothers Quay.
2015: Dressed to Kill & The Hunger . Dog Day Afternoon & Welcome to New York . Eskimo & Trader Horn + The Epic of Everest . Moby Dick & The Civil War . Daniel & The Confession . Seventeen & Cooley Hight . Tall Blond Man with One Black Shoe & The Man From UNCLE . Hombre & Kid Blue . Agnes Varda in California . The Killers . Absolute Beginners & Downtown 81 . Eddie Cantor . Valerie and her Week of Wonders . Escape from East Berlin . Li'l Quinquin. Charles Laughton . 42nd Street . Le silence de la mer . Imitation of Life (1934 & 1959) . That Man From Rio . The Lady from Shanghai & Ride the Pink Horse . Disorder plus Stray Dogs . The Wild Angels & Psych-out . A Day in the Country . When the Wind Blows & Coonskin . The Bitter Tears of Petra von Kant .  Syncopation plus The Connection . In the Land of the Headhunters plus Panzerkreuzer Potemkin . Liliana Cavani: The Night Porter and Skin . Boyhood plus My Winnipeg . Otto Preminger: Bunny Lake is Missing plus Skidoo . Safe plus The Americans (season 2) . Mood Indigo plus A Summer's Tale .
2014: … Il Sorpasso plus Stranger on the Prowl . Mr Magoo & Father Brown . Riot in Cellblock 11 plus The Big House . Alice plus Black Jack . Friedkin's Sorcerer & The People vs Paul Crump .  Persona plus The Master of the House . The King of Comedy plus Ms.45 . Men in War plus The Boy From Stalingrad . Lon Chaney in The Hunchback of Notre Dame . Samson and Delilah plus The Miracle Woman . Buster & Fatty Talk . Crimes and Misdemeanors plus The Front . Foreign Correspondent . Come Back Africa & Zulu .  The Jungle Book . The Miami Story with other Kefauver policiers . It's a Mad, Mad, Mad, Mad World plus Khartoum .  I Cannibali plus . Nostalghia .
PRINT ONLY: On Jewish Dada, Tablet (Rosh Hashona 2016), On Charles Musser's Politicking and Emergent Media: US Presidential Elections of the 1890s, Bookforum (Sept 2016); On Steve McQueen's "End Credits" (Artforum, Summer 2016); On The Town Hall Affair by the Wooster Group (Artforum, Summer 2016); On The Crucible and the Canon, Tablet (Shavuot 2016); On Chantal Akerman's No Home Movie, Tablet (Passover 2016); On "Walkers," Artforum (); On Chantal Akerman's News from Home, Artforum (January 2016); On Jean Rouch's Moi un noir, Artforum (November 2015); On Batman and Pop Art, Artforum (March 2015); On Andy Warhol's Poor Little Rich Girl, Film Comment (Sept-Oct 2014); review of  Decades Never Start on Time: A Richard Roud Anthology, Film Comment (July-Aug 2014); On Ad Reinhardt's Art Comics, Bookforum (Feb 2014).
NEW PUBLICATIONS!
Invisible Adversaries
"Free to Love: Cinema and the Sexual Revolution," Love: A BFI Compendium
"Freed to Love? Movies and the Sexual Revolution," Free to Love: The Cinema of the Sexual Revolution (International House Philadelphia)
"'Like Canyons and Rivers': Performance for Its own Sake," Rituals of Rented Island: Object Theater, Loft Performance and the New Psychodrama, Jay Sanders with J. Hoberman (Whitney Museum/Yale)
"The Gremlins Franchise: Standing Spielberg on His Head," Joe Dante, ed. Nil Baskar & Gabe Klinger (Osterreichisches Filmmuseum)
"Drawing His Own Conclusions: The Art of Spiegelman," Co-Mix: A Retrospective of Comics, Graphics, and Scraps, Art Spiegelman (Drawn + Quarterly)
PRINT ONLY: On Batman and Pop Art, Artforum (March 2015); On Andy Warhol's Poor Little Rich Girl, Film Comment (Sept-Oct 2014); review of  Decades Never Start on Time: A Richard Roud Anthology, Film Comment (July-Aug 2014); On Ad Reinhardt's Art Comics, Bookforum (Feb 2014).
 2016 MOVIE REVIEWS: Kaili Blues, King of Jazz, Eva Hesse, Who's Crazy?, Rabin, The Last Day
2015 MOVIE REVIEWS: Two Days, One Night [NYRBlog] . American Sniper [NYRBlog] . Maps to the Stars & The Congress  [Tablet] .
2014 MOVIE REVIEWS: The Last of the Unjust [Tablet] . 12 Years a Slave [Harper's]. Nymphomaniac [NYRBlog] . Noah [Tablet]. Manakamana [NYRBlog] . Ida [Tablet] . The Immigrant & The Grand Budapest Hotel [Tablet] . Snowpiercer [NYRBlog] . Inherent Vice [Artforum]
2013 MOVIE REVIEWS: Inside Llewyn Davis [Tablet]. Nebraska . The Wind Rises . At Berkeley . The Pervert's Guide to Ideology [Artforum] . Blue is the Warmest Color . The Fifth Estate . Gravity [NYRBlog] . Captain Phillips . A Touch of Sin . Enough Said . Newly Weeds .  Le joli mai . Shark . Katzelmacher . Our Nixon [Artforum] . The Grandmaster . Ain't Them Bodies Saints .  The Act of Killing [Tablet] . Computer Chess . Viola . Crystal Fairy . Museum Hours . I'm So Excited! . The Bling Ring . Behind the Candelabra .  Hannah Arendt [Tablet] .  Old Dog . The Great Gatsby . Something in the Air . Post Tenebras Lux . Spring Breakers [NYRBlog] . Room 237  [Tablet] . Portrait of Jason . Un Flic . This Ain't California.To the Wonder . Blancanieves . Le Pont du Nord . Beyond the Hills . Caesar Must Die .  The Gatekeepers . Hors Satan . Gangster Squad . San Diego Sunset [New York Times] .